THIRTEEN MORE POINTS!
Something has been on my mind for while. Over the past few weeks I have seen articles praising teams such as Roma, Fiorentina, Lazio, Parma and Sampdoria for runs of form and performances, and yet since the season started I have not seen many praising one of Serie A's most improved sides. Mr Nut-job and Mr Dependable Now, I know the story of our season is still unwritten, being involved...
What a Waste of Money - The Disastrous Deals of...
Nobody can argue that under the ownership of Aurellio De Laurentiis and his Filmauro group, with the the expertise of sporting directors Pierpaolo Marino and Riccardo Bigon, Napoli have bought some great players. Mariano Bogliacino, Robeto Sosa, Paolo Cannavaro, Marek Hamsik, Edinson Cavani, all fine servants for the club. But it has not all been roses and wine. For every good signing you can...
Napoli v Fiorentina - Beach Football......
NAPOLI 2 - 1 FIORENTINA Napoli - De Sanctis, Campagnaro, Cannavaro, Britos, Maggio, Dzemaili, Behrami (Inler,53), Hamsik (Donadel,90), Zuniga, Insinge (Vargas,81), Cavani Fiorentina - Viviano, Roncaglia, Rodriguez, Tomovic, Cuadrado, Romulo (Seferovic,85), Pizzarro, Borja Valero, Pasqual (Fernandez,76), El Hamdaoui (Ljajic,69), Jovetic GOALS Marek Hamsik 55min (N), Blerim Dzemaili 67min (N),...
Palermo v Napoli - One Down, 37 to go...
PALERMO 0 - 3 NAPOLI Palermo: Ujkani,Cetto,Munoz,Von Bergen,Barreto (Dudan,80),Betrolo,Brienza(Migliaccio,29),Donati(Arévalo,55),Pisano,Miccoli,Hernandez Napoli: De Sanctis,Britos,Cannavaro,Campagnaro,Aronica,Inler(Vargas,77),Behrami, Hamsik(Donadel,90) Maggio,Insigne(Dzemaili,61),Cavani GOALS Marek Hamsik 45+3, Christian Maggio 79, Edinson Cavani 88 HIGHLIGHTS STAT ATTACK Salvatore...
Introducing... The Mazzarri-o-meter
Following a recent number of crazy statements post match I though it was about time we rated games by the unique device called the 'Mazzarri-o-meter'. It requires no introduction and you should recognise the quotes…… Following an outstanding performace, games will be rated with this A decent perormace will be given this mark An average performace will be awarded this ...
Quick Pix - Brazil v Honduras
Today was my final Olympic football match. Here are some images from todays game. CLAMOROSO - PATO ON A FOOTBALL PITCH Brazil team warming up Neymar scores a controversial penalty neymar penalty from Napoliblogger on Vimeo. Neymar in the mix zone and again I have a longer blog post ready to go tomorrow about my experience at the Olympics with more video and photos.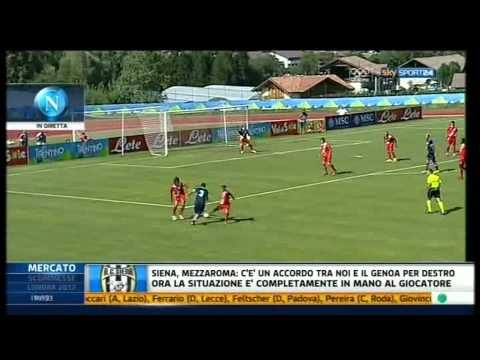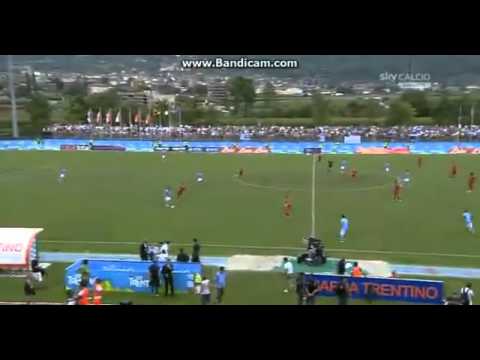 Cavani Conundrum
Will he stay or will he go? Can you blame him for thinking like this… El Matador - Coming to a Premier League ground soon? When Edinson Cavani spoke after the 2-0 win over Novara he sent medium sized ripples through us Napoli supporters when he questioned his own future in Naples. We are not stupid, we know Cavani won't be at Napoli forever and we know how much every team in Europe wants a...
Tired, very very tired.......OF EVERYTHING
For the first time ever I found myself actually supporting the jeering of my side after an awful defeat. I am a staunch supporter of my side. I have supported my side through the good and more often the bad times. I always try to look for the positive in every performance, I have even praised Salvatore Aronica this season but on Wednesday something broke inside me. The 1-3 victory by Atalanta was...
Counter Point
Its incredible to be a Napoli fan at the moment. We continue to confound people with the progress being made in the UEFA Champions League. Yes, we are only half time in the tie against Chelsea, but if someone had told me Napoli would be 3-1 up to go into the second leg of a last 16 tie I would have chewed your hand off, but something is bothering me.. The three tenors I watch a lot of Napoli,...
The Winter Market
HAPPY NEW YEAR. Well, its been an awful long time time since i actually wrote anything, nearly three months infact. Instead of going through all that has happened since my last post (too much) so I thought I would look at the possible moves Napoli could/should make this transfer window. At the end of December sporting director Riccardo Bigon finalised the singing of Eduardo Vargas from...
2 tags
"We are ready for Manchester and I am curious to see how Napoli will react to the..."
– Curious? 'Worried' would be my choice of words - Walter Mazzarri looks forward to the Champions League game this week
11 tags
Season Preview - Well it took me long enough.....
A summer of lion masks, scooters and RELEASE CLAUSES but Napoli look in good shape ahead of the season 'Lion Man' points the way The Summer It has been an eventful close season. No sooner had the season finished than it looked like Walter Mazzarri was on his way out of the club. Following 'crisis' talks with Aurellio De Laurentiis and Riccardo Bigon the tuscan...
"I have a contract until 2015, I am a Napoli player and I am at the disposal of..."
– El Pocho puts the world to rights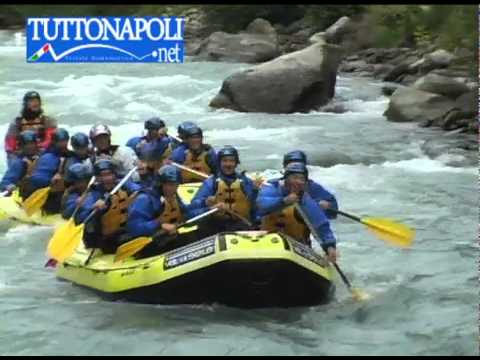 "I'll kill them if they've broken my Edinson"
– Guess who…..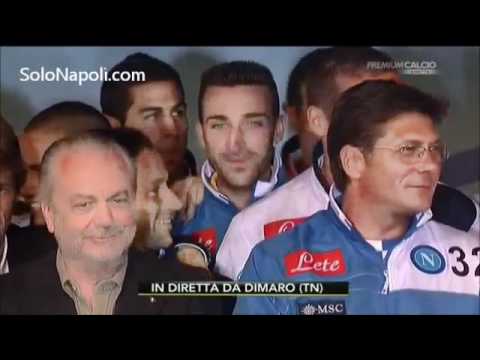 Today's The Day ~ Click To Visit The... →
One for the Juve fans
INLER - AT LAST!
For a man so protective of his image rights I can't imagine what was going through Gokhan Inler's head when he was told to wear a Lion mask at his presentation. Image rights, what image rights…. Napoli's new signing will add bite to the midfield…… (Picture - Yahoo) The man wanted by Napoli for over three years, the man that Napoli could and should have...
"The people of Naples have won my heart and guided my hand: I wanted to play for..."
– Statement from Gokhan Inler on his website.. http://inler.ch/?112A0A2A9143&utm_source=twitterfeed&utm_medium=twitter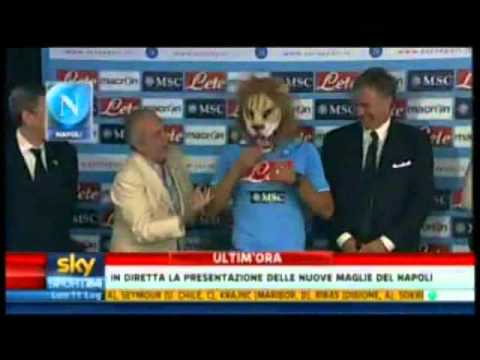 "The truth is that we're not machines and we're not designed to play so many..."
– Edinson Cavani speaking about the playing so much football
"I really wanted to join Napoli. I am joining a very strong team with amazing..."
– Blerim Dzemaili speaking about his move to Napoli
"I spoke to Inler's agent and have asked for a meeting to finalise everything. If..."
– Aurellio De Laurentiis speaking to Radio Marte, more here http://www.football-italia.net/jun24u.html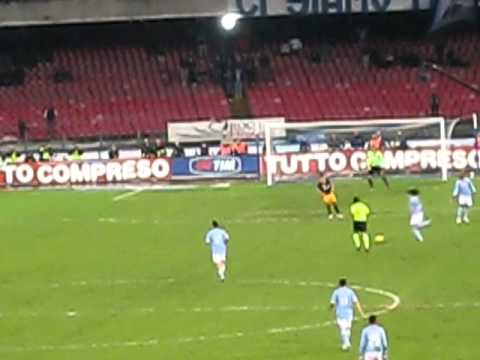 le pagelle di fine anno
Yes, its a bit late but better late than ever eh? It has been a fantastic season to be a Napoli fan. A Europa League run, Champions League qualification, Edinson Cavani breaking out. So many excellent performances and a few which could do better. Here is my rundown of the squad from the 2010/11 season. Morgan De Sanctis 8.5/10 - My favourite player this season and for me Morgan was the best...
"Napoli are not a supermarket"
– I beg to differ with Aurellio De Laurentiis looking at the Napoli webstore….
Napoli - 2010/11 in Pictures
All good things come to an end, and the same can said of the 2010/2011 Serie A season. I thought I would share some of my favourite pictures month by month which defined this season. August The season got off to a shocking start as Fabio Quagliarella was benched against Elfsborg and then sold that night to Juventus September Edinson Cavani scores the winning goal against Sampdoria in...